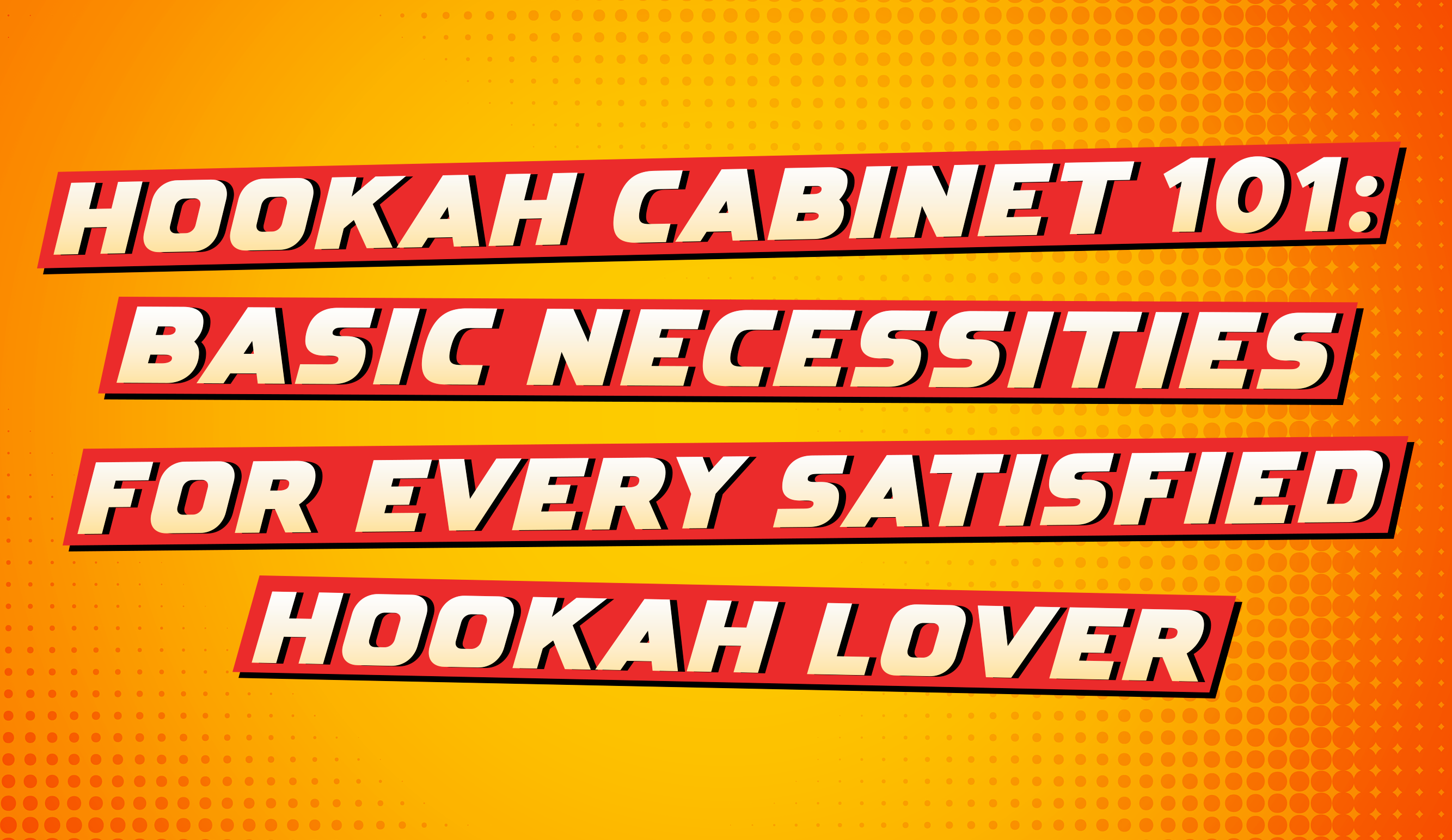 Being an invested hookah smoker involves keeping all of your hookah supplies readily accessible. While we used the word "cabinet" in the title of the post, each hookah aficionado has their own approach to organizing hookah essentials. In this post, we'll explore the best technique to keep your hookah supplies handy, avoiding the nuisance of assembling your hookah just to discover you're low on hookah charcoal or shisha.
So, refer to this guide to ensure you have all your gear prepped and ready before your next smoking session.
Basic Hookah Essentials to Keep Handy
Hookah
Find a hookah that satisfies your smoking requirements and tastes seamlessly. Hookahs come in a variety of styles and sizes. Choose the one that most accurately fulfills your prerequisites and preferences. Smaller ones prove helpful in a variety of settings. You can even travel with them. However, medium or large ones only serve excellently in your home setting. For group or solo sessions, you may even opt for a multi-hose hookah.
Hookah Tobacco
Next comes choosing the right hookah tobacco, where you have three options to consider:
Blonde Leaf Hookah Tobacco:

This is the most popular hookah tobacco because it's effortless to prepare, suitable with different hookah bowls, and available in a myriad of flavors.

Dark Leaf Hookah Tobacco:

This hookah tobacco has a high nicotine content and a strong buzz, making it a hot favorite of avid smokers. It is essential to have specialized knowledge for loading and heat management.

Herbal Shisha:

These shishas are free of tobacco and nicotine. They are made of sugarcane pulp or tea leaves that absorb the flavored molasses. It is adaptive and also works efficiently with a variety of hookah bowls and heat management strategies. If you are new to hookah, start by purchasing small amounts of different shishas. If you have already picked your favorite, you can buy shisha in bulk to save more.
Hookah Charcoal
Typically, a normal hookah session continues for 45 minutes to an hour and requires up to five charcoal pieces. Make sure you have a sufficient amount of coal in your stock. There are two different types of coal to consider:
Quick-Lighting Charcoal:

Great for newbies since it lights rapidly using a matchstick or lighter.

Natural Hookah Charcoal:

They are popular for providing steady heat for an extended period of time and have little to no odor. There are several sizes and brands to choose from.
Once you've identified your favorite charcoal type, purchasing in bulk will save you good money. Natural charcoal requires particular lighting techniques, such as an electric coil stove or an electric hookah charcoal burner.
Hookah Bowls in Various Styles
Nowadays, hookahs come with phunnel, or traditional hookah bowls. Phunnel bowls have a high spire that holds shisha molasses while it warms up, increasing the overall smoking sensation.
It's a good idea to have a few spare hookah bowls on standby in case of an emergency. A variety of bowl styles is advantageous; for example, a phunnel bowl performs best when it comes to smoking dark leaf shisha, but you can try different hookah bowls for smoking blonde leaf hookah tobacco.
Hookah Hoses
It is a good idea to have a few hookah hoses for different flavor profiles in your repertoire. Another option would be a washable hookah hose. For group sessions, you can opt for disposable ones. Study about different hookah hoses before making your purchase. If you are not sure how to select one, here is a comprehensive guide to help you choose the right pipe.
Key Hookah Accessories
Invest in high-quality essential hookah accessories to ensure an enjoyable hookah experience. You can use pre-cut or pre-poked foil for quick assembly, longer, sturdy tongs for efficient coal handling, and extra grommets, particularly for bowls and hoses, since these frequently go missing.
Where Can You Keep Your Hookah Supplies Organized?
Depending on the space available and your personal preference, you can store your hookah gear in hookah bags or dedicate a closet to a kitchen cabinet, closet, or bookshelf for storing it effectively. You can even dedicate an entire room for storing and smoking hookah. However, make a point to keep everything in one place, as it becomes easier to set up. Furthermore, keep your hookah shisha in sealable containers or pouches and the hookah charcoal dry to ensure proper combustion.
Keep track of your shisha, charcoal, and grommet inventories regularly to maintain tranquil hookah sessions. If you are short on stock and don't have a nearby supply store, consider delivery times while purchasing online. Plan ahead of time for gatherings or cookouts based on your available shisha and charcoal, as visitors may expect more bowls than you have planned.
Whether you are running low on any hookah supplies or want to upgrade your setup, feel free to explore our elite collection of premium hookahs and hookah accessories at Khalil Maamoon. From traditional hookah to hookah coals, you will find everything you need for an exquisite hookah session. You will surely love it!