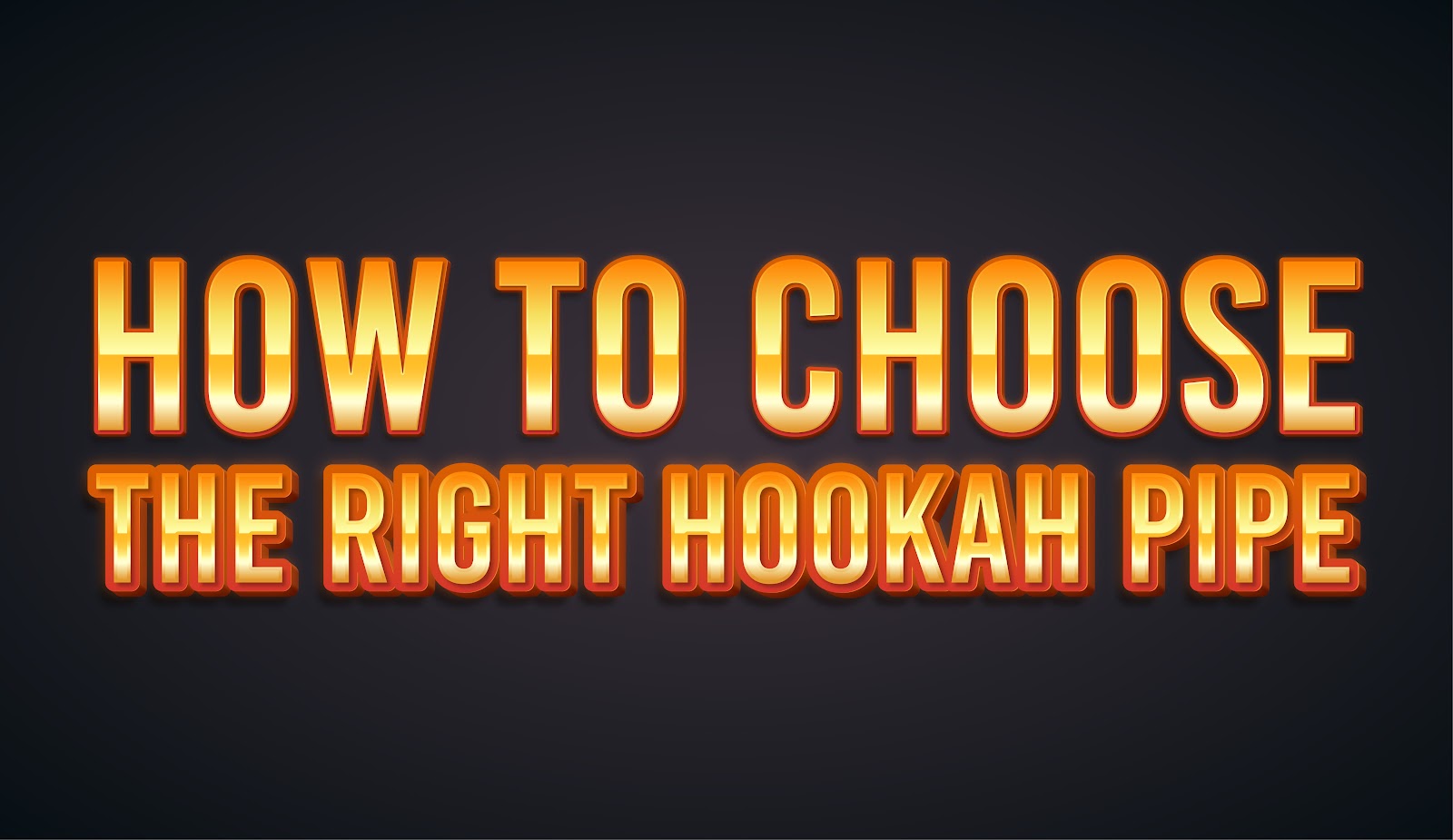 A hookah has a few essential components, and each of these parts is equally indispensable for the apparatus to serve its purpose. The hookah pipe plays as vital a role as the glass base as the water chamber and the glazed clay bowl that you load with your favorite shisha tobacco.
Those buying an all-inclusive hookah kit will have the pipe in the box. However, you may still opt for a particular type of hookah pipe and choose a kit accordingly. Those buying any hookah part separately can certainly explore as many options as they want. 
Bearing both possibilities in mind, here is a comprehensive guide to help you find and select the right hookah pipe for your shisha experience. 
Shortlist the Suitable Types of Hookah Pipe
You may use your budget as the primary shortlisting criterion, but the significant attributes of any hookah pipe will have a bearing on your shisha sessions. Hence, you should consider the major factors, and not just the budget. Of course, you can check various pipes within a price range.
Designs
The first distinction that broadly classifies hookah pipes into two segments is the primary design. A hookah pipe may be a single piece or in two parts. The single piece is the classic or traditional design. You get one hookah pipe that fits into the base and hosts the bowl at the other tip.
Some hookah pipes have a contemporary take on the classic version. Instead of a single piece, you get two or more parts that form this hookah pipe. So what you get is basically a down stem and an upper portion of the pipe. I discuss the pros and cons below in this post.
Materials
The most common materials used to make hookah pipes are the following:
Aluminum

Brass

Copper

Steel
Brass and copper are more common in traditional hookah pipes, like the Egyptian designs that are usually handcrafted. Aluminum is also found in conventional hookah pipes. But steel is not that usual in traditional hookahs. That said, hookah pipes may have a combination of materials.
You may find hookah pipes with a stainless steel interior for easy maintenance and an exterior made of brass. Likewise, aluminum and copper may be used in combination. There are fancy hookah pipes with a brass interior and wooden engravings on the exterior. 
Even glass and other materials have been used over the years to embellish hookah pipes. But modern hookahs tend to be more minimalist and practical. So, you may find stainless steel and silicone used in combination. Silicone offers a better grip and also has an insulating effect.
Of course, the interior of the bore is stainless steel and the exterior of the hookah pipe in such a design has a silicone cover or wrap. These materials have varying consequences, so you must choose as per your needs and smoking style.
Sizes
Hookah pipes can be small, medium, large, super large, etc. A mini hookah pipe may be as little as 8 to 10 inches. Medium hookah pipes are around 20 inches or a bit taller. Larger pipes are usually taller than 24 inches. These sizes are for the pipe, not the entire height of your hookah.
A hookah will be substantially taller with a glass base and a glazed clay bowl adding to a pipe's height or size.
Special Features
Modern hookah pipes have the following special features:
Additional hose ports: if you want to use two or more hoses in one session

Efficient purge valves: you can readily blow air and smoke out of the hookah

Diffuser at the bottom: breaks the bubbles for better cooling and filtering of smoke

Screwable stem pieces: in multi-stem pipes or at the ports for the base and bowl
Understand Your Needs and Smoking Style
All the aforementioned attributes of hookah pipes will come into play when you account for your smoking style. Your needs and preferences should determine the following choices:
A single-piece hookah pipe is a straightforward proposition unless you get a very small size. A small hookah pipe is likely to get hot quickly and may prevent the smoke from cooling down to a desired extent. But a dual-stem hookah pipe has its issues, too.

Two-piece hookah pipes may have air leakage if the connecting bores are corroded or if the fitting is improper. Besides, even large hookahs can have one-piece pipes, so you're not hard-pressed to choose a style that has two or more stems.

Brass is more vulnerable to corrosion than steel. But both brass and copper may look a bit more appealing than aluminum and stainless steel. These alloys and metals can rust if the quality is poor. Hence, the decision boils down to quality, not the material per se.

Select the size you need, largely depending on how many people will share a round. The same requisite will determine if you want multiple hose ports. All modern hookahs have a purge valve, but the better models have more efficient ones.

Diffusers and other fancy features aren't essential, but you may consider these options if your budget isn't a concern. Most hookah pipes with extra features will cost significantly more.