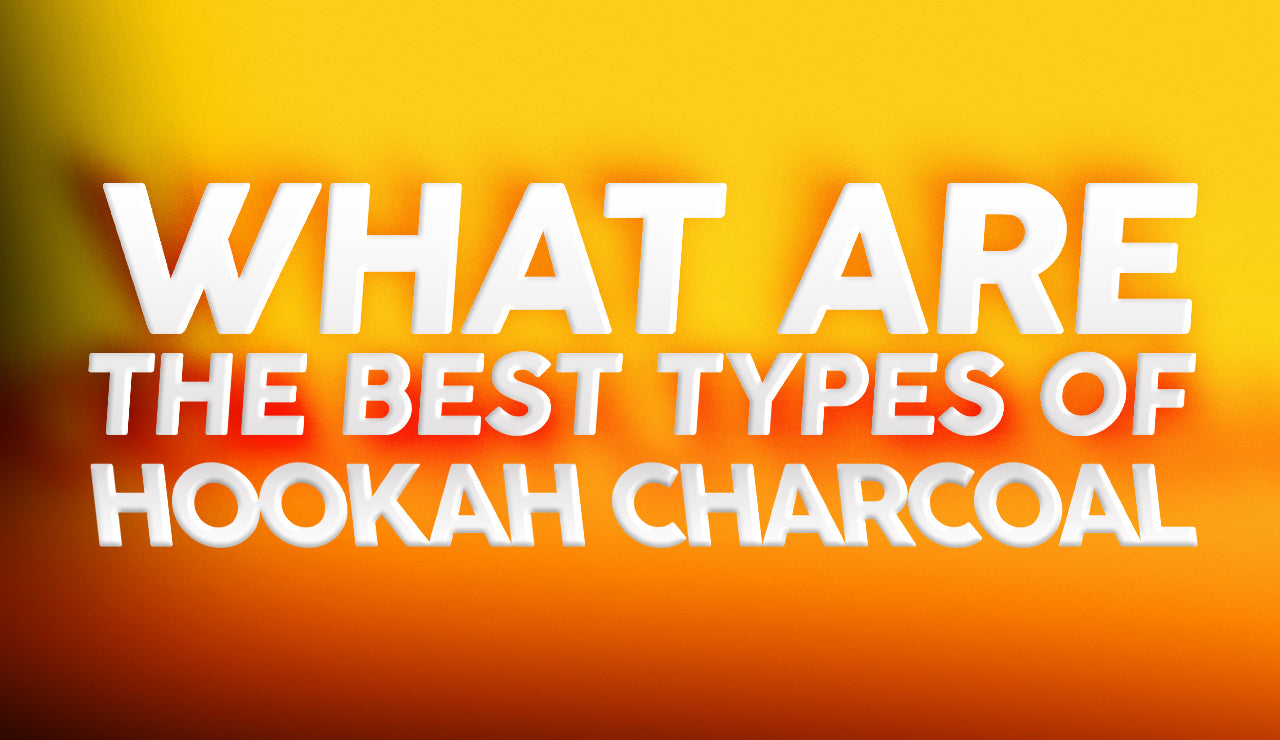 Hookah charcoal or shisha coals are an important part of your hookah set up without which you cannot even start your session. In today's hookah market, there is a variety of shisha charcoals available in the market. They all differ in sizes, shapes, and styles, and thus it can be a bit baffling to differentiate them and assess which one will serve you the best. In this blog, we will consider different types, materials, and brands of hookah charcoals, so you know what the best types of hookah charcoals are for you. Next time you have to buy hookah charcoal, it will be an easy decision to make.
MATERIAL OF HOOKAH CHARCOAL 
So long, you may not have even thought about it, but it is imperative to consider what is there inside your charcoal. It is not a trivial thing that you can ignore. Have you ever had a horrible buzzing experience or a headache right after smoking hookah at a hookah bar or a friend's place? The chances are that quick lights or instant lights heated the hookah. These coals contain some harsh chemicals to burn quickly and often cause such side effects to smokers. Again, some hookah coal companies use wooden fillers or sawdust to reduce production costs. Such cheap coals produce a nasty smell and end up changing the real flavor of the shisha. Let us share a trick with you to evaluate the quality of the coal and check out the coal's color when it is ignited. If the coals turn whiter and burn hot, it contains cheap chemicals and fillers, while coals that turn browner are high-quality and contain premium ingredients. No matter which charcoal you choose, make sure it is prepared with 100% natural materials. Ideally, hookah charcoals made of coconut shells are the best. They offer tasteless, odorless heat and allow you to relish the shisha flavors thoroughly and consistently for a longer duration. 
SHAPES OF HOOKAH CHARCOAL
The simple hookah charcoal is also available in several forms as no one fixed shape or size can fit every hookah bowl. Let's see what charcoal shapes we have with us.
· Cubes.
Unsurprisingly, it is the most common kind of Hookah Charcoal we have. It is dice-shaped charcoal with six flat sides, which makes it super-stable while heating. They burn slowly and go with most of the hookah bowl types. Hookah charcoal cubes are also accessible in different sizes. For the best result and optimum heat, keep rotating the cubes throughout the hookah session; otherwise, they will start having black flats.
· Flats.
Much like the cubes, but flat hookah charcoals appear to be a flat bar. They don't burn much longer and are ideal for relatively shorter sessions. Flat coals are best if you are using foils to cover your shisha. Due to their particular shape, they don't fit well into the heat management devices.
· Cubettes.
Somewhen between the flats and the cubes, cubettes are another deviation of the customary cubes but with the same drawbacks as the flat coals.
· Finger Charcoals.
Also known as the sticks, these charcoals are the second most popular coal types we got. They are cylindrical in shape, and around three of them can easily fit on top of a phunnel hookah bowl. 
· Cuboid.
They are the rectangular edition of the sticks. The flat sides make them much stable, but they are not that versatile and likely to cause heat spikes. Be cautious, as most of the quick lights come in cuboid shapes.
· Hexagon.
Another derivation of sticks is mostly made of coconut shells. Apart from the sticks' benefits, they are more stable and hence form a good heating option. 
· Disc or Circle.
Avoid disc-shaped coals as much as possible unless you are confident that the ingredients are 100% natural. 
· Quarter Circles.
These coals are specially designed from lotus-like HMDs and Razor Heat Management Devices. They are good to start the session, but as they burn and lose shape, it becomes hard to maneuver them with tongs.
TOP HOOKAH CHARCOAL BRANDS
Now that you know that coconut shell coals are the best, here are some of the best brands from that category.
Al Shiraj. Made from quality coconut shells, it is available in large cubes.

Coco Nara. Another coconut charcoal, which is available both in flat and large cubes.
Apart from all the brands mentioned above, several more brands offer high-quality coconut charcoals. Just assess the quality before you start using them.
Have a great Shisha Time!