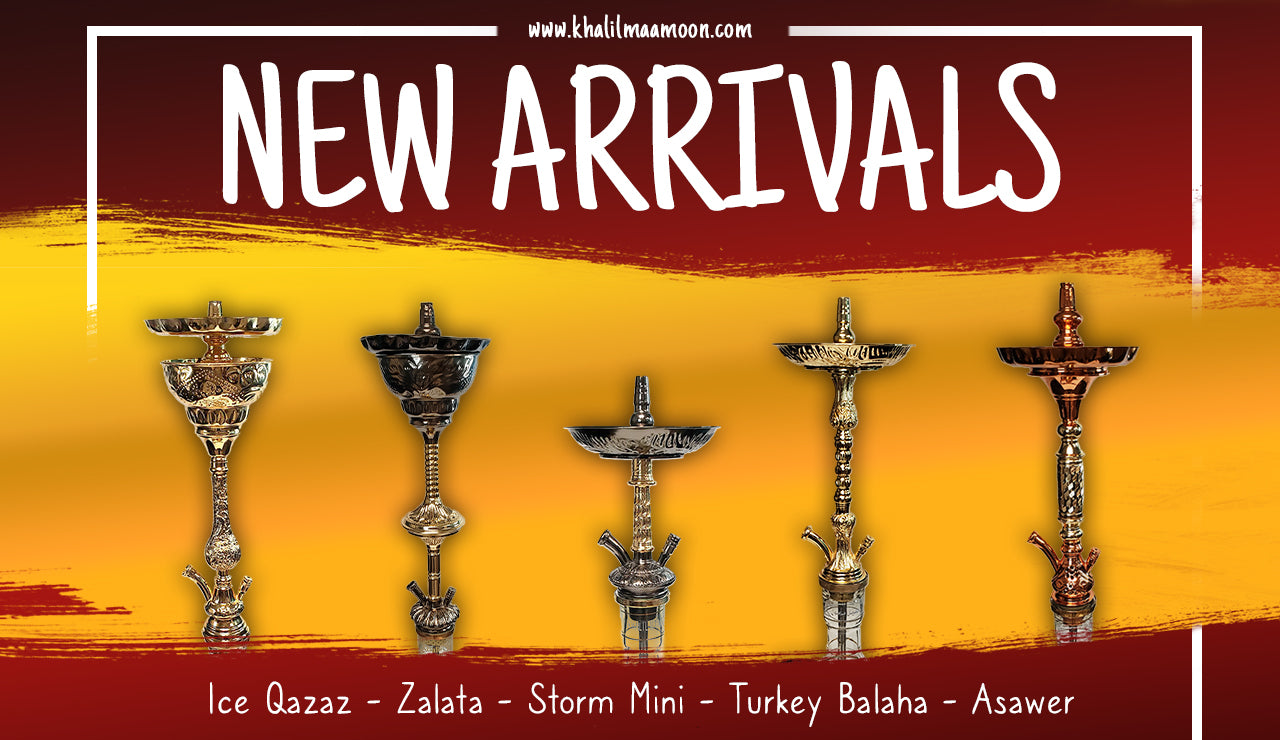 Listen Up Crazy Hookah Lovers!
Khalil Mamoon is here to upgrade your hookah collection facelift. Smoking a hookah is much more than a trend or craze, it is a time-honored culture that prevails for many centuries. Though Hookahs is globally famous, it began somewhere in the Middle East region. Khalil Mamoon has come from the same land Cairo, Egypt from where hookah-smoking was taken as a cultural tradition around 500 years ago. Since 1873, Khalil Mamoon has been handcrafting some of the most traditional, stylish hookahs and hookah accessories. Over time, we have brilliantly combined modern techniques and features to make our Khalil Mamoon Egyptian Hookahs more efficient and advanced. However, we didn't let go of our Middle East water-pipe smoking culture. All the Khalil Mamoon Egyptian Hookahs are crafted by a team of veteran Hookah artisans in Egypt. Hence, you may find them vary in terms of patterns and designs. 
Now, we have updated our line of hookahs with some gorgeous new hookah styles that are sure to catch your eye. Right now, we added six new amazing hookahs that you make your heart crave for a smoke. Here, we will go over these magnificent pieces so you know which one will be the perfect addition for your hookah collection. Without any delay, let's get started.
Khalil Mamoon Storm Mini Hookah. Though it looks mini, it has the same features and quality that you find in any of the big and exquisite Khalil Mamoon Egyptian Hookahs. It is handmade in Egypt and comes with Khalil Mamoon Egyptian hose, clay bowl, and glass base. It also includes essential accessories like tongs and cleaning brushes. The cost of this little storm is $89.99.

Khalil Mamoon Turkey Balaha Hookah. Khalil Mamoon is recognized for our excellent craftsmanship in Egypt by seasoned artisans. Expect the best when it comes to choosing this gorgeous traditionally styled Khalil Mamoon Turkey Balaha. It will cost you around $104.99.

Khalil Mamoon Asawer Hookah. Like any other Khalil Mamoon piece, this one too speaks volumes of its quality and hand-painted Egyptian beauty. It features a Khalil Mamoon Egyptian glass base, clay bowl, and a hose that would go a long way depending on how regularly you smoke it. The beautiful Awaser would cost you only $89.99.

Khalil Mamoon Zalata Hookah. It is a beautiful blend of Egyptian design and modern hookah technique. Be sure that you are getting a top-quality hookah that has love, time and skill built right into it. The hookah set comes complete with branded silicon hose, clay bowl and glass vase from Khalil Mamoon along with tongs and a cleaning brush to help you maintain the shine of your Zalata. Buy a Zalata for only $134.99.

Khalil Mamoon Ice Qazaz Hookah. This handcrafted Khalil Mamoon creation is a stunner for real. It comes with all the necessary elements from Khalil Mamoon, which includes an Egyptian hose, glass vase, and clay bowl. It comes inclusive of the brand hookah parts for a price of $119.99.

Khalil Mamoon Buls Hookah. Another beautiful handmade piece from the house of Khalil Mamoon. It is an unmatched epitome of quality and craftsmanship. Apart from the essential elements of the set (bowl, vase and hose), tongs, and a cleaning brush, will also be included in your purchase so you can keep your hookah squeaky clean for every use. You can bag this for only $74.99.
Allow yourself and your friends to enjoy a superb hookah session and relish the pleasure of knowing that you are smoking from an artistic Khalil Mamoon Egyptian hookah. Be ready to connect back to the Middle East culture and please your taste buds and overall senses in style but without going heavy on your pockets.
These gorgeous new Khalil Mamoon Egyptian Hookahs have elegant and intricate designs etched into them, depending on the exact theme in question. There's a style for every price range, so you don't have to worry about not affording one. Also, you can view the beautiful colors that are available for each, from rose gold, red, green, to gold and black. We are here to offer you breathtaking Khalil Mamoon Egyptian hookahs available in several colors, so you can pick the perfect hookah for yourself. All these new arrival hookahs are featured under the "New Arrivals" tab on our official Khalil Mamoon website.
Free shipping is also available for purchases that are more than $100. Expect to receive your hookah promptly and with the highest standards of care and quality.