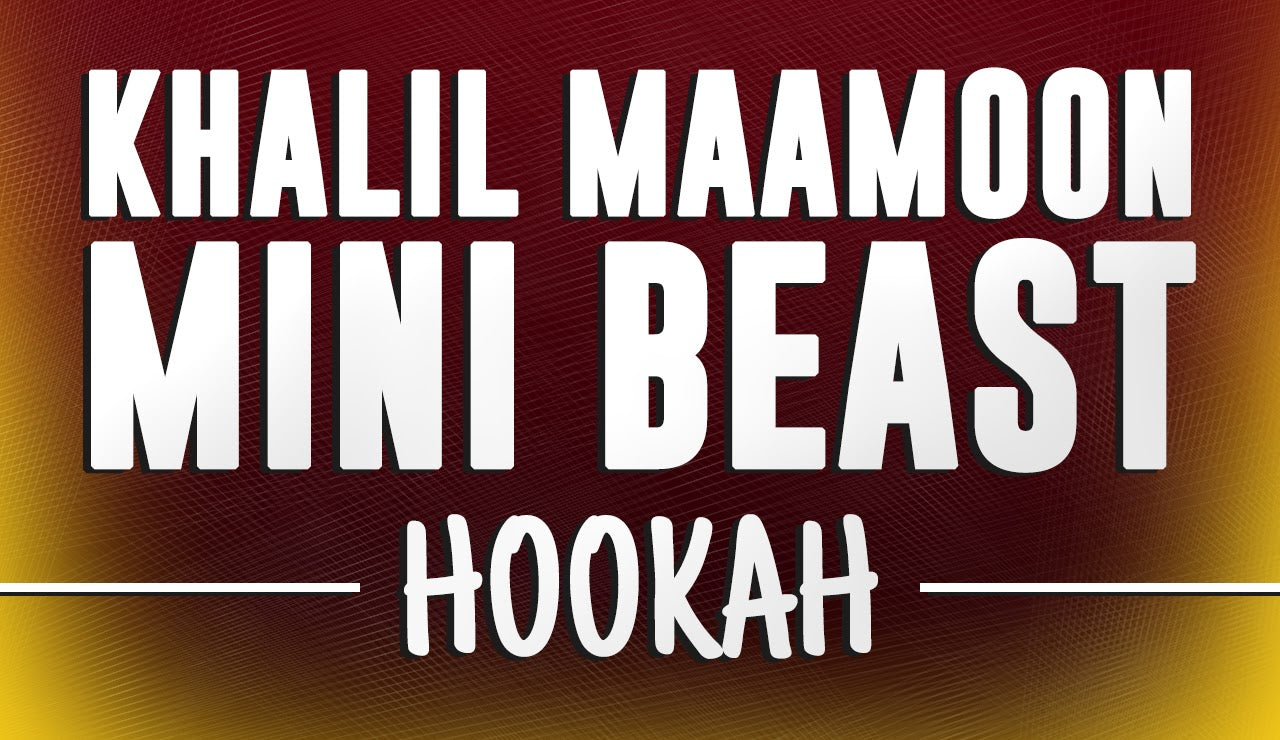 Mini Beast from Khalil Maamoon is exactly what you expect it to be. With a height of sixteen inches, the hookah is indeed a 'Mini'. Given the volume of smoke it can generate, despite its small form, the hookah is indeed a 'Beast'. Every major hookah manufacturer has its range of mini variants. Khalil Maamoon, being a leading brand that it is, has succeeded in making probably the sturdiest and most enchanting hookah in this range.
Khalil Maamoon Mini Beast is Perfect for Small Spaces
Many people are compelled to consider smaller hookahs due to an unchangeable paucity of space. Those who live in apartments, or don't have a dedicated room for hookah sessions and other favorite pastime activities, tend to buy smaller shishas that can be easily tucked away, quickly brought out and set up in a jiffy.
Mini Beast from Khalil Maamoon has a simple setup. It is made of sturdy materials that can be handled effortlessly. You do not have to worry about fidgeting with the different pieces, whether it is the bowl or the shaft, the hub or the base. The grommets are easy to deal with. The fitting of the shaft or stem, the hub, and the base, is surprisingly convenient. Unlike some other hookahs, you do not have to work hard on fitting everything together.
You can place the Mini Beast almost anywhere you want. It can be on the floor, next to your seat. You can place it on any table. It is not too heavy, so carrying it around is not tedious. While the size does make it seem small in larger settings, yet it is perfect if you are an individual user at a time. The Mini Beast from Khalil Maamoon is not ideal if you have a group of people and want a long session. For that, you would need a different bowl, a larger one.
Mini Beast Hookah Package from Khalil Maamoon
The package includes all the essential components: a handmade stainless steel stem sporting a gorgeous gold hue, a glass base, a clay bowl, a tray, a non-washable hose, grommets, and tongs. The stainless steel construction makes the hookah durable, as it is resistant to corrosion and rust. Those who have used hookahs of other brands over the years may be aware of the rusting issue. The quality of stainless steel in the Mini Beast from Khalil Maamoon is worth a mention. It is sturdy. There are hookahs that don't feel strong. They are largely vulnerable. Mini Beast is not, living up to its name.
In addition to the quality of construction, it is the detailing of the aesthetics that would impress any and sundry. Khalil Maamoon is known for its penchant for aesthetics, whether it is their ranges of hookahs or flavors. Even their boxes, especially for the shisha flavors, look amazing. From the packaging to the fonts used, everything is classy. The same is true for Mini Beast. The company has not gone overboard with excessive detailing, but the bold lines and ergonomic patterns make Mini Beast a beautiful hookah to own and use, and to be proud of.
User Experience of Mini Beast Hookah from Khalil Maamoon
The first thing one would notice after unboxing is the clean cuts of the various pieces. As you clean the components before the first setup, it is hard to not marvel at the craftsmanship. The down-stem and the hub are designed in a manner so as to not retain any traces of flavors. The bowl is not too big, so it is likely most users would enjoy one flavor at a time. Even if you are mixing two flavors, the entire piece can be easily cleaned and there would be no residual traces whatsoever.
The hose is not too long, which is expected given the fact it is a small hookah. But the hose is sufficiently long for you to be a fair bit away from the hookah. You don't have to be absolutely glued to the setup to enjoy your smoke. The various ports are universal. You can always use another hose, a different clay bowl, and a larger tray, if you want. You can use the cleaning brush and tongs you may already own.
Those who do not have much experience with smaller hookahs, it is necessary to use an optimum quantity of water. Don't overfill the base. It would limit the volume of smoke. You would also have to put in much more effort to draw out satiating puffs. There isn't too much air inside the apparatus, after setting up, so the water level should be regulated accordingly.