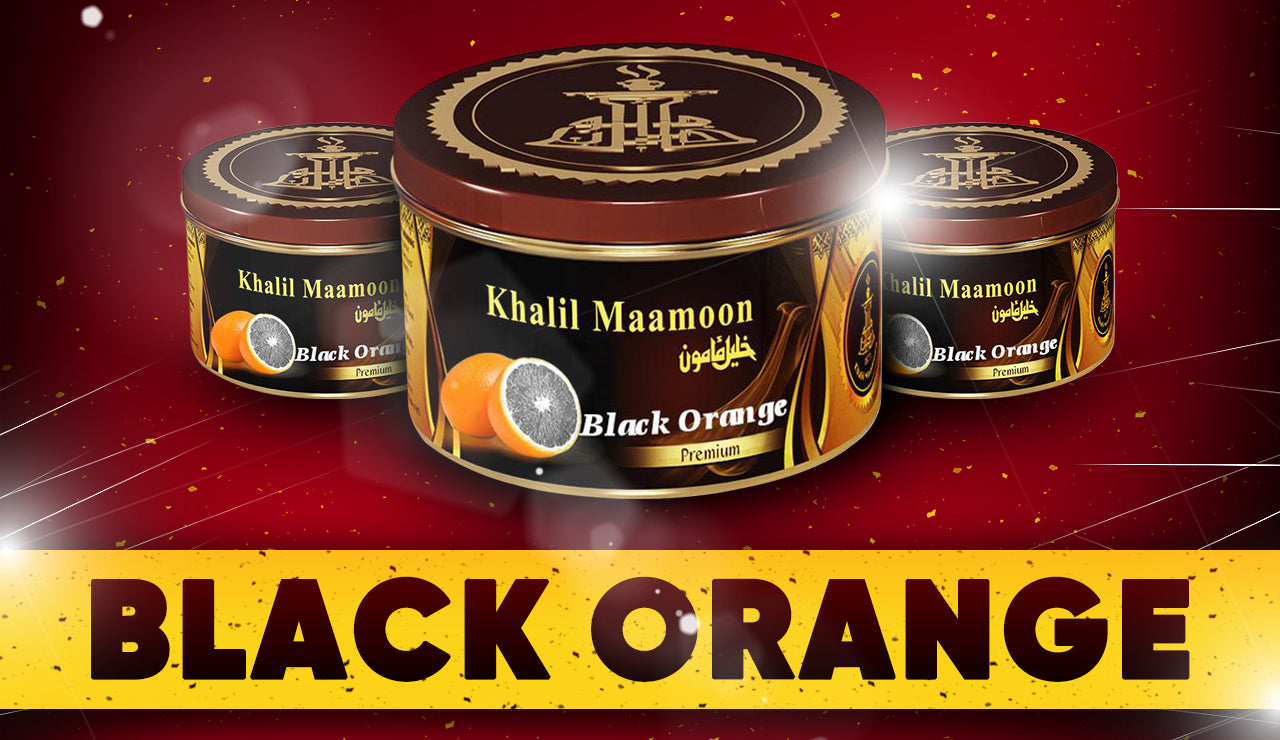 Khalil Maamoon brings to you a fascinating new flavor combination. Black Orange is just what you need after a tiring day of work: some leisurely time of blissful shisha to be truly refreshed.
Black Orange Flavor from Khalil Maamoon
Black Orange is a proud addition to our range of premium flavors. Blackberry and orange are two of the most sought after shishas in the world. Khalil Maamoon combines these two popular flavors in a powerful blend. The very moment you open the can, your room will be filled with the rich aroma of ripe, juicy and zesty orange. There is also a subtle fragrance of blackberry. There are very few fragrances that are as rejuvenating as citrus aromas. A close whiff of the tobacco will further enhance your olfactory sense.
Our new Black Orange flavor is an all-weather shisha. It is fitting for any season, whatever are the conditions outside. It is also for all kinds of mood. Whether you are alone or hanging around with your friends, Black Orange will enhance the ambience of the place and deliver a pleasurable buzz. Orange is the primary flavor profile but coexisting with blackberry. There is no sequential experience of the two flavors. It is a harmonious blend. Both flavors complement and give you the zesty orange and the earthy blackberry. The sweetness of ripe oranges is retained, so is the tartness of blackberry.
 Available Sizes and Prices of Khalil Maamoon Black Orange
We have three available sizes of Khalil Maamoon Black Orange for now. These are 100g, 250g and 1000g packs. The 100g pack is priced at $9.99.
User Experience of Khalil Maamoon Black Orange
The first immediate reaction of a user would be a pleasant smile upon opening the can. The fragrance is too pleasurable to not pay heed to. At the same time, the aroma does not make the air stuffy, especially if you are smoking indoors. The second reaction would pertain to the fine texture of the blend. Some shishas are too moist. They are sticky and difficult to manage. It is not convenient to carve out a substantial portion and then work on it, so the tobacco is sufficiently aerated before being put into the bowl. Black Orange is not wet or moist. It is not too dry either. Some tobaccos are so dry that they almost crumble and parts fall off when you try to get some of it out of the can. Black Orange is effortlessly manageable.
The third noteworthy user experience is the quantity you need for a flavorful session. If you are alone, then you do not have to fill the entire bowl for a session of thirty minutes. The size of the bowl shall of course matter in this subjective assessment. The fact that this shisha is densely packed with rich flavors will become evident when you get sustained smoke, both aromatic and voluminous at the same time. There is absolutely no dip in the flavor profile, whether you are inhaling or exhaling. This is true for all our flavors from Khalil Maamoon.
Immediate Effects and Aftertaste of Khalil Maamoon Black Orange
Khalil Maamoon Black Orange flavor is for any and sundry. It is not hot or cold. There is no warm feeling in your mouth. Since it is not a menthol flavor, there is no iciness to it either. It is a moderate flavor in regards to the temperature of the smoke. Some users may opt for ice along with water in the base of the hookah. Just as some users prefer to combine this flavor with others, whether fruits or menthol. Black Orange has no bite. It does not hit your throat. The vapor is smooth, dense and rich. It is aromatic and flavorful.
Users can expect a nice sustained buzz, not any abrupt kick or inconsistent sensations. The texture of the smoke remains consistent throughout a session, unless the charcoals are exhausted, in which case you can get a fresh piece or two. An optimum quantity of this blend shall easily last thirty minutes to forty five minutes. If a standard hookah bowl is packed to the brim with this flavor, then one user can enjoy an hour long session.
Khalil Maamoon Black Orange has no unpleasant aftereffect or aftertaste. The aroma dissipates in the room. You would not have any residual taste in your palate after the session. Since both inhaling and exhaling provides the same aroma, texture and flavor, you have a predictably consistent smoking session, every time you pack some Black Orange.