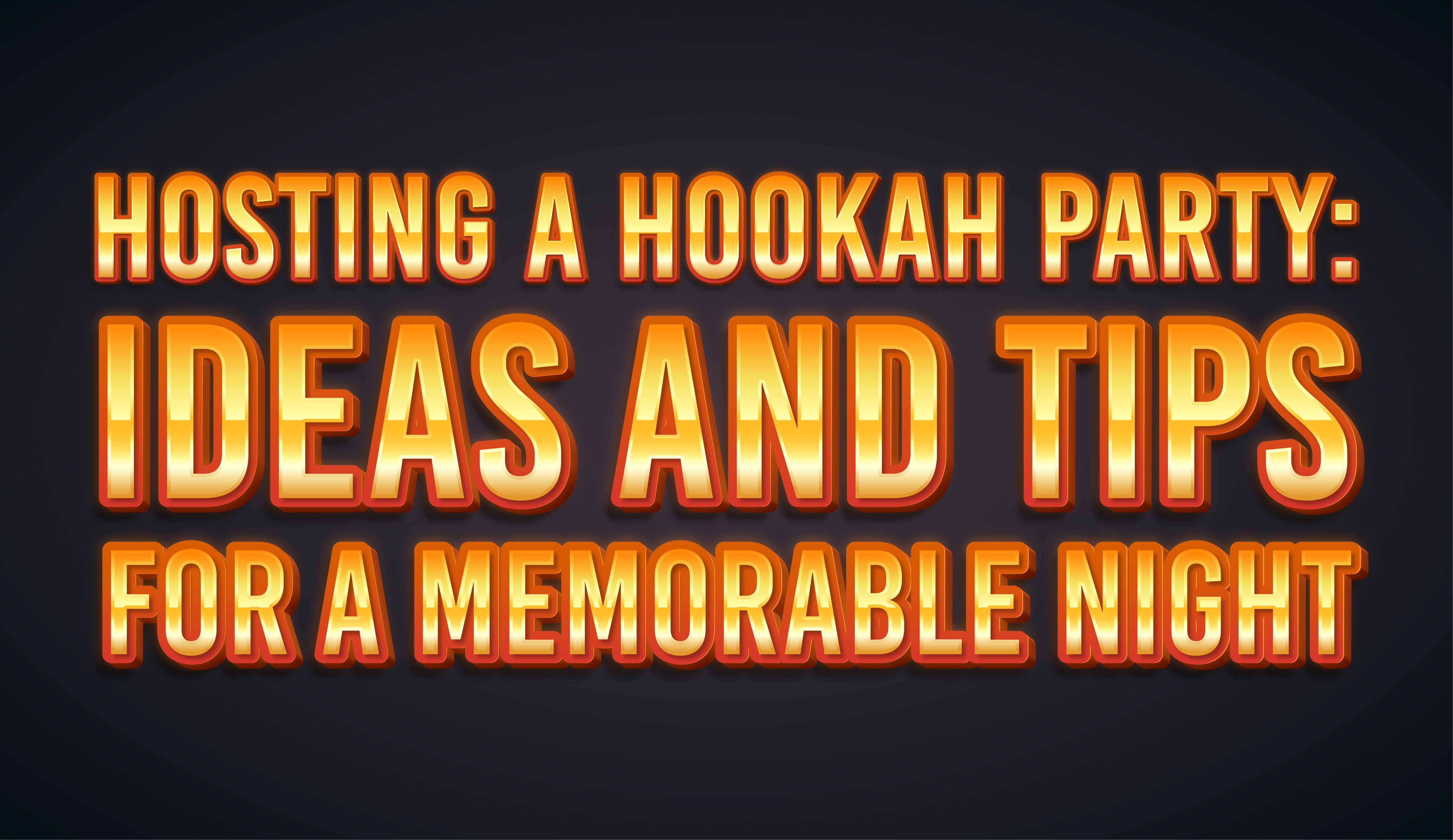 Are you feeling worn out after a grueling week of work? If so, why not gather your friends and relieve your stress by organizing a hookah party? Going to a hookah lounge can be costly and burdensome on your wallet. Instead, a better option is to bring the party to the comfort of your own home. Hosting a hookah party at home not only allows you to smoke at your own leisure, but also grants you the freedom to create your own atmosphere. This way, you can have the best of both worlds. We'll provide you with ideas and tips for hosting a memorable hookah party, from decorations to accessories. Get ready to make it an unforgettable experience for you and your guests. Let's dive in and have a great time together!
Ideas and Tips for a Memorable Night

Tip #1. Picking the Best Spot for Your Hookah Party.
When planning a hookah party at home, choose the perfect location. Avoid decorating your entire house and instead focus on a well-ventilated area. Indoor spaces may retain smoke and odor, so consider a spacious hall room or basement. Alternatively, the backyard is a great option, offering both ventilation and ample space for activities like bonfires. Selecting the right location ensures a pleasant and enjoyable hookah experience for you and your guests.
Tip #2. Creating a Checklist and Double-Checking It.
For a successful hookah party at home, it's vital to have the right accessories. Create a checklist to stay organized and ensure you don't forget anything important. Include items like a coal holder, disposable hoses, mouth tips, and clay bowls for a safe and hygienic experience. Don't forget to note other important party details on the checklist.
Tip #3. Picking the Appropriate Hookah.
When planning your hookah party, choose the right hookah and accessories carefully. Consider the size, style, and budget of your event. Opt for a larger or more ornate hookah for a luxurious atmosphere, or use multiple hookahs or hookah with multiple hose ports for larger gatherings. Ensure a pleasant smoking experience with high-quality hose and hookah bowls.
Tip #4. Selecting Proper Accessories.
When choosing hookah accessories, ensure an ample supply of hookah hoses and mouth tips to avoid shortages. Have a large coal holder for safe handling and enough charcoal, whether natural or quick-light, along with a reliable heating source. Disposable hoses and mouth tips bought in bulk provide convenience and cleanliness. Use a fork and gloves for hygienic shisha packing. Lastly, opt for clay bowls for a seamless smoking experience.
Tip #5. Choosing the Right Flavors.
Choosing the right shisha flavors is vital for an unforgettable experience. Provide a range of traditional and exotic options to suit different tastes. Offer three to four flavors, allowing guests to mix and match or enjoy their favorites. Ensure you have both nicotine and non-nicotine-based shisha available to accommodate all attendees.
Tip #6. Pick a Theme for the Party.
Every successful hookah party needs a theme, and a Middle Eastern café vibe is a great starting point. Embrace the exotic atmosphere with authentic dishes like hummus, kebabs, and dates, paired with Turkish coffee and mint tea. An exotic tea party with artisan blends can also be a delightful option. For a creative crowd, consider a hookah and painting session or an arts and crafts night. Choose from themes like Arabian Nights, Mediterranean, Hippie, Modern, or a historic and classy ambiance that reflects the origins of shisha.
Tip #7. Prioritizing Safety and Comfort of Your Guests.
When hosting a party, prioritize the safety and comfort of your guests. Invite only those who are comfortable with smoke or have experience with smoking. Educate newcomers on hookah etiquette and safety. Create a designated smoke-free area for sensitive guests. Be prepared for emergencies with a first aid kit and fire extinguisher nearby. By selecting the right hookah, creating a welcoming atmosphere, providing entertainment and food, and ensuring guest safety, you can host a memorable hookah party. Enjoy the company of friends and embrace the tradition of hookah smoking.
Tip #8. Don't forget Food and Entertainment.
To keep your guests entertained at your hookah party, provide engaging activities like music, hookah games, and contests. Offer a range of delicious snacks and beverages, including traditional Middle Eastern dishes and refreshing options. Consider themed decorations to enhance the atmosphere. For added fun, include tabletop games and a hookah potluck for experienced enthusiasts.

To create a memorable hookah party, it's crucial to plan meticulously and pay attention to every detail. Ensuring a comfortable setting, offering a diverse selection of shisha flavors, and providing plenty of food are essential ingredients for success. Additionally, incorporating enjoyable activities will help make lasting memories for both you and your guests. So, embrace the planning process and enjoy hosting a remarkable hookah party!