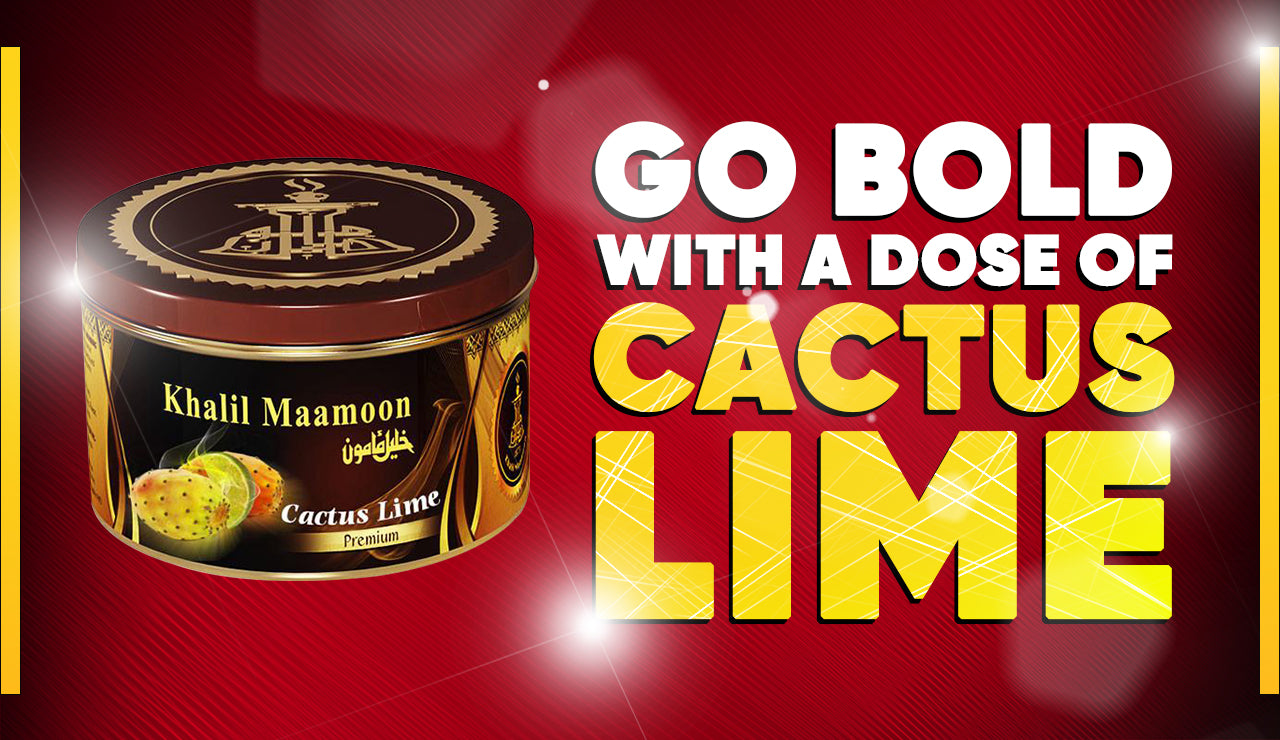 Cactus Lime is a distinct shisha flavor from Khalil Maamoon. Many smokers, especially beginners, may be discovering this flavor in recent times, but it has been around for a few years now. Yet, no major brand of shisha has been able to replicate the wondrous flavor combination of Cactus Lime. We bring to you, simply the best cactus based shisha flavor with a tinge of fresh lime in it, for a session unlike any other you may have had over the years.
Cactus Lime Flavor from Khalil Maamoon
Khalil Maamoon uses the finest quality tobacco leaves, in this case Virginia, for the Cactus Lime flavor. The combination is quite straightforward. Extract of the soft seeds of cactus is blended with fresh lime for a proportionate concoction. There is no other flavor or ingredient in this shisha. The combination of Virginia dark leaf tobacco, cactus seed extract and fresh lime provides an undisputedly distinct flavor that you may not have tasted ever before.
Available Sizes and Prices of Khalil Maamoon Cactus Lime
Cactus Lime from Khalil Maamoon is available in three sizes: 100g, 250g and 1000g. These three sizes are respectively priced at $9.99, $17.99 and $49.99. The shisha is packed identically as other flavors. You receive a glamorous can of Cactus Lime, neatly sealed in an airtight container, with the now iconic logo of Khalil Maamoon. The premium flavor is now available and there is free shipping for eligible orders.
User Experience of Khalil Maamoon Cactus Lime
Smokers who are now familiar with the fruity flavors, the menthols and other combinations would be in for a fascinating session with the Cactus Lime. This standout flavor is far from the sweetness, tartness, tanginess, iciness and other such common flavor profiles that smokers have been accustomed to for far too long. Cactus Lime, in a way, bucks the trend and totally circumvents the widespread use of tropical fruits, menthols and other typical flavor profiles. In more ways than one, Cactus Lime is about subverting expectations of smokers, and that is certainly in a good way.
The packaging is of world class quality. The shisha flavor is delivered fresh in the can. It has the most convenient texture you have come across. Handling this tobacco is probably going to be your easiest hookah setup yet. The fine balance of moisture and dryness of the tobacco makes this the most user friendly shisha flavor, probably of all time.
Cactus Lime does not have an overwhelming aroma. It will not fill up all the air in your room with some dominating fragrance. There is no artificial fragrance infused or additives that exude a synthetic smell. You are going to smell cactus. You are going to get the familiar aroma of fresh lime. Since fresh lime is the smaller player in this concoction, you are not going to get that lemony tartness or tanginess. Cactus Lime from Khalil Maamoon is not a sweet, cool, tangy or cool flavor. It is a bold shisha flavor. Many connoisseurs have found this to be the boldest flavor from Khalil Maamoon. Some have inferred that it is the boldest shisha across brands.
Immediate Effects and Aftertaste of Khalil Maamoon Cactus Lime
Cactus Lime is subtly sweet and bitter. One could describe it best by using the expression bittersweet. Depending on your palate, you may taste more sweetness and some may find it more towards the bitter end of the spectrum. However, you are not going to be overwhelmed by either sweetness or bitterness. It does not leave a bitter aftertaste. But it does have a bold and heavy presence. Cactus Lime is a far cry from the sweet tropical fruits, the candies and the cool menthols. This is warm. This tobacco is for the bold smokers, those who have graduated from the sodas and colas to something much more evolved.
The immediate effects are as you would expect from a premium flavor of Khalil Maamoon. There is absolutely no hard hit or choke. You should use the tobacco sparingly. Do not overstuff the bowl, especially if you are smoking alone. Consider the planned duration of the session and pack just about enough of the flavor. Since the flavor is bold and heavy, using too much of Cactus Lime for a session is unnecessary.
There is no unpleasant aftertaste. Your palate would not have residual aftereffects. There is one standout flavor profile of Cactus Lime. You taste the cactus and the lime simultaneously. There is no secondary flavor.