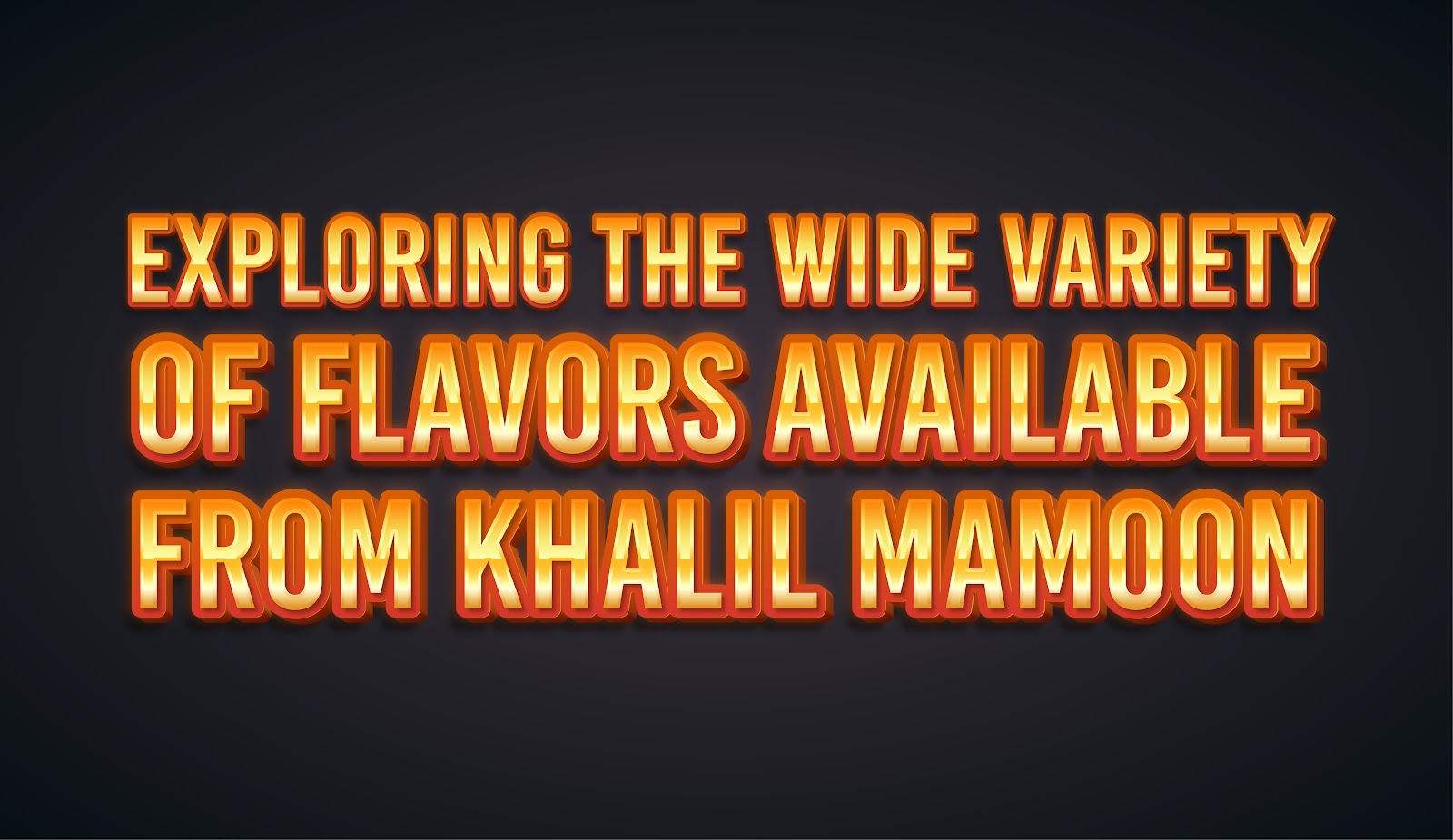 You can have a methodical approach to buying a hookah. You can choose the materials, size, and any special features you want. The classifications are only a few, so you can conveniently find the perfect hookah, whether it is your first one or the next prized addition to your collection.
Shisha tobacco flavors are a completely different ballgame because there are literally hundreds of flavors to choose from. While hookahs are also available in dozens of styles with scores of fine variations, the parameters are simpler. In contrast, shisha tobacco flavors aren't similar.
Consider the Khalil Maamoon hookah tobacco flavors, for example. There are almost 50 distinct flavors, and none is identical to any other. Furthermore, even if the same ingredient features in 2 or more flavors, the exact profile and texture aren't similar. How do you choose a flavor then?
Here's a simple method of exploring the wide variety of flavors available from Khalil Maamoon.
Dominant Flavor
Khalil Maamoon uses the same tobacco leaves for all its flavors. Likewise, all the flavors have a generous dose of ingredients that make your hookah experience richer and satiating, such as a dollop of glycerin, molasses, etc. So, you can prioritize the dominant flavor that you might like.
Consider the following shisha tobacco flavors from Khalil Maamoon:
Black Orange

Fancy Grape

Mango

Melon

Raspberry

Red Guava

Two Apple

Watermelon
These Khalil Mamoon shisha tobacco flavors have a dominant flavor. If you like that fruit or any other major ingredient that is the highlight of the concoction, you can safely go for that option for your next hookah session.
The dominant flavor doesn't necessarily tell you everything about the finer notes. However, if a particular recipe uses only one ingredient as its main component, that will be the singular flavor profile that you will enjoy. So, get Two Apple if you like the sweetness and zestiness of apples.
Blend of Flavors
Khalil Maamoon has dozens of shisha tobacco flavors that combine 2 or more ingredients in the same or slightly disproportionate measures. If you want a primary and secondary flavor profile, or you simply want a mishmash of different ingredients, a blended mix is certainly an option.
Here are a few examples of Khalil Maamoon shisha tobacco flavors that combine distinct or a few similar ingredients:
Berry Mix

Blue Dreams

California Dream

FakhFakhina

Grape Berry

Grape Malakee

Ice Apple

Ice Blackberry

Ice Cream Blueberry Vanilla

Kiwi Strawberry

Love Dreams

Maldives Breeze

Mochi Peach

Moodasia Block

Mystery Lady

Oso Blanco

Oso Rojo

Pan Rasna

Peach Aroma
These flavor mixes don't always have the same progression of primary to secondary profiles. A specific blend may have the primary and secondary flavors coexisting at the same time. Another blend may have a noticeable change in flavor profile, with the secondary ingredients kicking in a bit after the dominant or primary flavor, almost or exactly like an aftertaste in your mouth.
One thing you should know about these flavor mixes is that Khalil Maamoon doesn't combine 2 or more ingredients that can create a conflicting profile. If you choose the Kiwi Strawberry mix, for example, the blend is deliciously balanced. There is no oddity in the different flavor profiles.
Of course, not all flavor mixes have straightforward names. You have to check the ingredients of some shisha tobacco flavors to decide whether or not they may be suitable for your palate, like Blue Dreams, California Dream, FakhFakhina, Maldives Breeze, Oso Blanco, Pan Rasna, etc.
Lime, Lemon, Mint
Khalil Maamoon has quite a few shisha tobacco flavors infused with lime, lemon, or mint, and at times more than just one of these enhancements. Here are a few examples:
Blueberry Mint

Cactus Lime

Grape Mint

Gum Mint

Ice Lemon

Lemon Mint

Lemon Touch

Melon Mint

Mint

Orange Mint
Don't presume these blends to be just the dominant flavor with a tinge of lime, lemon, or mint. A mint shisha tobacco flavor is of course just that, but the others are a finely balanced recipe. For example, Blueberry Mint has a delicious dual flavor profile. Neither blueberry nor mint is the only flavor that you get to experience with this mix. The same is true for all such flavor concoctions.
Spices and More
Last but not least, Khalil Maamoon makes quite a few shisha tobacco flavors that make a good use of herbs, spices, etc. Here are a few samples:
Bombay Masala

Cinnamon Gum

Ice Cinnamon Gum

Mexican Salsa

Spiced Tea
If you prefer hookah smoke to be a bit enriched with some spices, these are definitely what you should consider, whether now or in due course as you get more familiar with Khalil Maamoon shisha tobacco flavors.