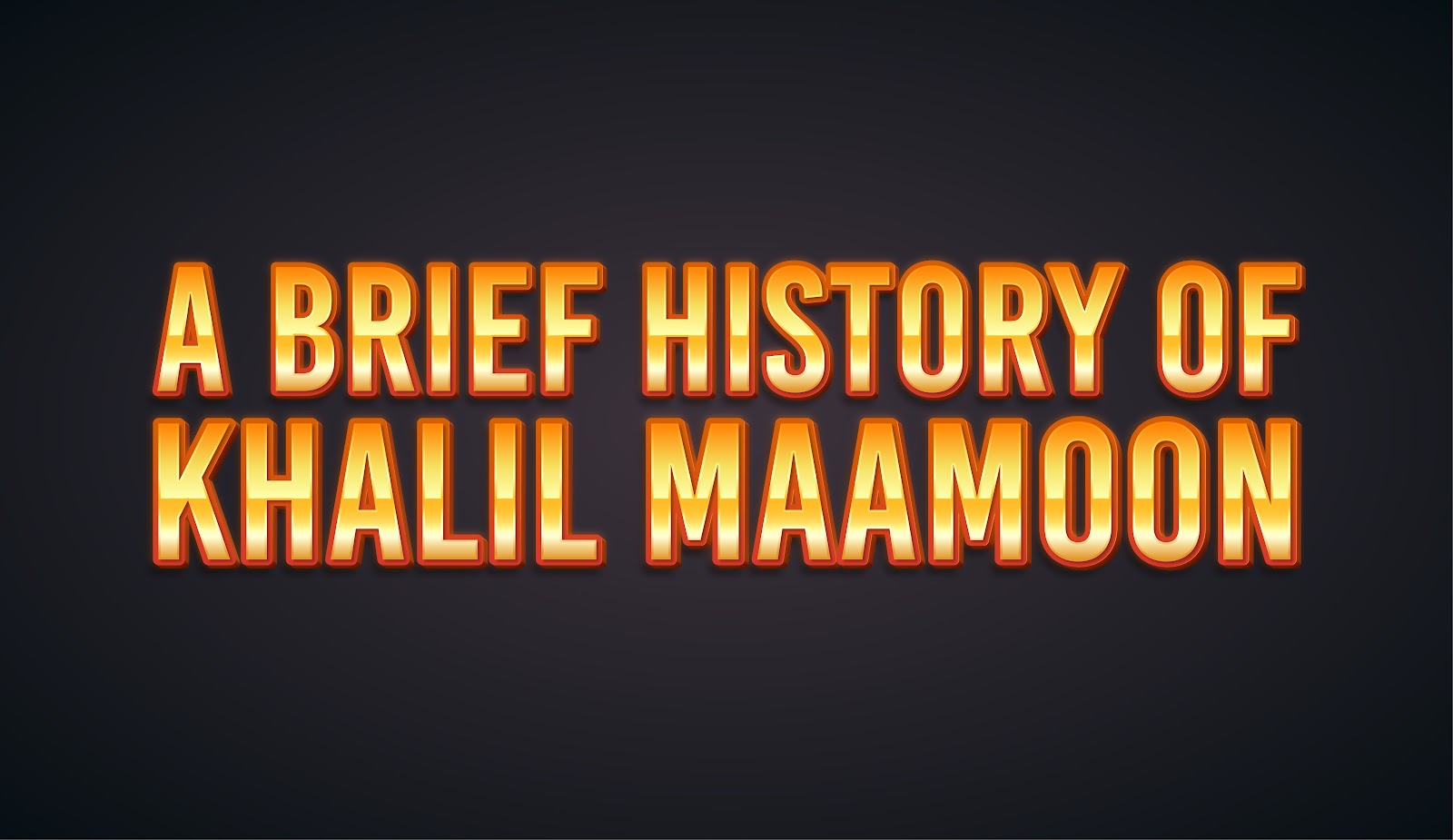 Khalil Maamoon (KM) is one of the most popular brands of hookahs in the world. KM also has an assortment of hookah accessories and the quintessential shisha tobacco, with a hundred hookah designs and an even greater number of flavors. These inventories continue to expand.
But you may wonder what or who Khalil Maamoon is, where is the company based, or how did a brand evolve with a product like hookah that was practically unheard of in most of the west until a few decades ago. So, here's a brief history of Khalil Maamoon.
The Origin of Khalil Maamoon
Khalil Maamoon is a company and a person. Much before the brand you are familiar with today came into existence, there was a man named Khalil Maamoon. His name and consequently the branding is often spelled differently across regions, especially in the English speaking countries.
So, Khalil Maamoon is also known as Khalil Mamoon and Khalil Mamoun, among other distinct spellings. All these names are essentially of the same man who started producing handmade hookahs in 1873. What he made back then was the classic or traditional Egyptian hookah.
Khalil Maamoon, the founder of the company, was an Egyptian residing in the capital city of Cairo at the time. Maamoon was a businessman dealing in antiques and furniture. That was his main enterprise in the latter half of the 19th century. Then, he started making hookahs.
The Egyptian hookah was already popular in Cairo during his lifetime. So much so that the most prominent cultural and social activity in many settings and occasions was sharing a water pipe or a hookah. Khalil Maamoon set out to design handmade Egyptian hookah pipes.
Given his exposure to antiques while running a furniture store, Khalil Maamoon must have had a reasonable exposure to erstwhile hookahs, some of them so ornate and regal that they could be classified as treasures. Naturally, KM wanted to make exquisitely detailed hookahs. 
The Khalil Maamoon Signatures
Khalil Maamoon wasn't a known hookah brand in the 19th century. But he incorporated this new niche of products into his main family business. And the KM signatures became quite evident by the early 20th century. Of course, the firm was still confined to Cairo and probably a few parts of Egypt where the hookahs were traded. Yet, the telltale signs of uniqueness were unmistakable.
Khalil Maamoon and his artisans made all the hookahs solely using handheld tools. The primary and most common material used by Khalil Maamoon was brass. He excelled at designing brass hookah pipes. And he took many steps further to make each piece unique with the design.
Sometimes, the hookah pipes would have an exotic shape. Other hookah designs would have some quaint calligraphy. All such attributes continue to be visible today in the contemporary KM hookahs.  
That said, the Khalil Maamoon signatures weren't and are not necessarily impeccable. The fact that all KM hookahs are handmade pave the way for imperfections, which is unavoidable due to human errors and limitations. Handheld tools cannot achieve the perfection of machines.
Thus, Khalil Maamoon hookahs had minor glitches in the finishing. But that wasn't due to poor craftsmanship or lackadaisical production practices. These issues, such as an imperfect circle or a lack of smooth edges and rims, are due to the handcrafting practices of Egyptian hookahs. 
While the craftsmanship was and is amazing, probably the very best on the planet, these tiny imperfections continue to be a signature of Khalil Maamoon hookahs, especially those that are totally original. Some Khalil Maamoon hookahs available today are assembled sets.
The Expansion of Khalil Maamoon
Khalil Maamoon didn't expand as a brand until the latter half of the 20th century. Long after the founder, his legatees continued to build on his accomplishments and sustained the uniqueness of the handmade Egyptian hookahs.
Over the decades, the company Khalil Maamoon has used materials other than brass for its hookah stems. Bronze, copper, and stainless steel are three materials that Khalil Maamoon has used exclusively and in combination. 
As the brand grew beyond Egypt, Khalil Maamoon had to ramp up its production. But it was not a specialist in making hookah bases and bowls. The founder Khalil Maamoon was not an expert in glassmaking or working with clay, earthenware, stoneware, etc.
Hence, Khalil Maamoon engaged local artisans in Egypt to mass produce handmade Egyptian bowls and glass bases for its hookahs. These shisha components are original because they are made exclusively for Khalil Maamoon. You will find the parts stamped with the KM branding.
Currently, Khalil Maamoon is known by different names due to the companies wholesaling and reselling the brand's products in international markets. You may hear about Khalil Maamoon Inc, Khalil Maamoon International Group, and Khalil Maamoon International Limited, among others.
All such companies offer the same original Khalil Maamoon hookahs and individual accessories, such as bases, bowls, hoses, stems, tongs, trays, etc. Since 2015, Khalil Maamoon has been dealing in hookah or shisha tobacco as well.