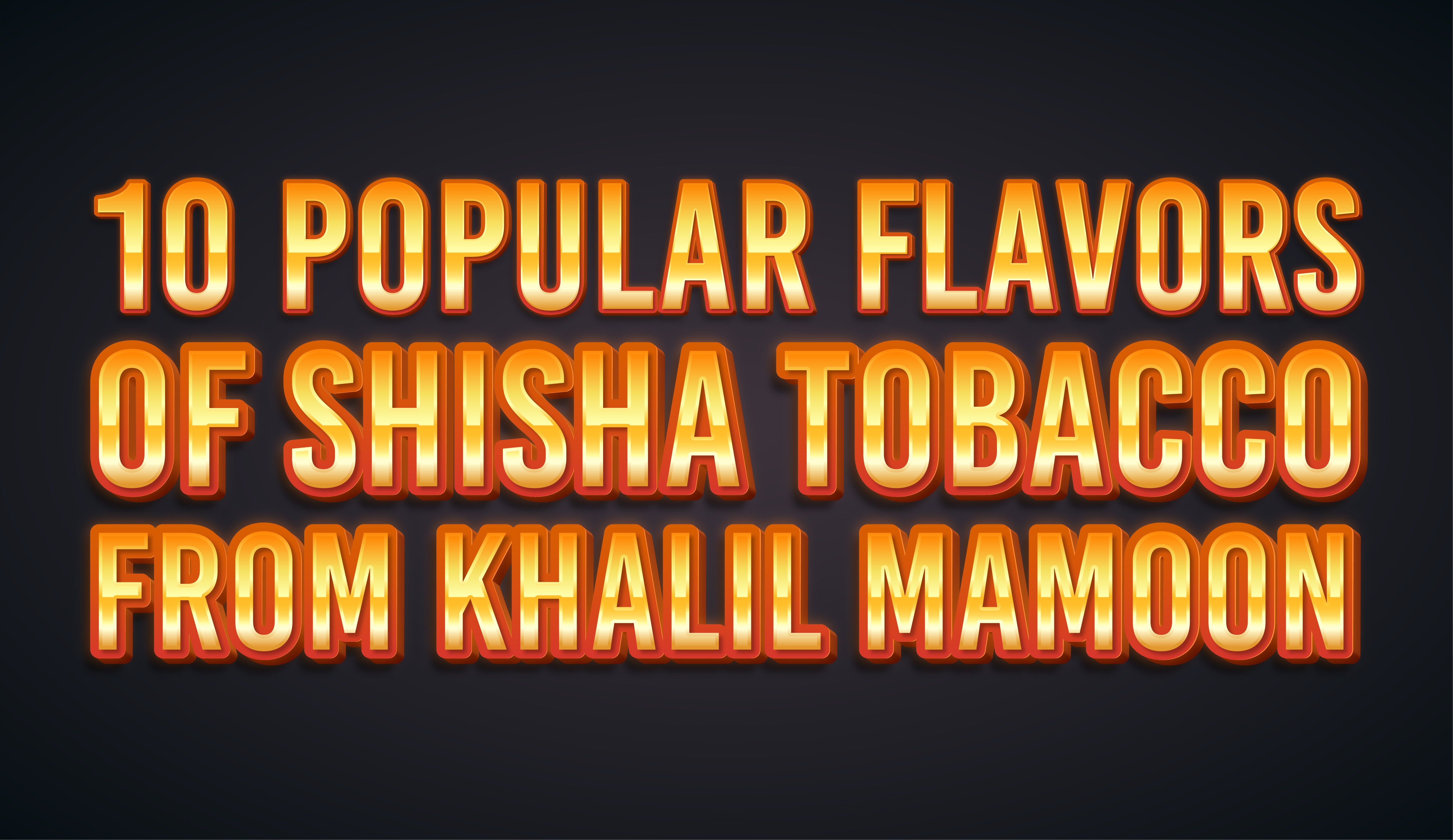 Khalil Maamoon is one of the leading hookah brands in the world. Hence, it isn't surprising that the company is also known for some of the most popular flavors of shisha tobacco. I will not talk about the usual apple or mint because these flavors have been staple for hookah connoisseurs.
Instead, let's explore some of the fascinating concoctions of Khalil Maamoon that have evolved to become the bestselling shisha tobacco flavors of the day.
1. Berry Mix
The Berry Mix shisha tobacco flavor from Khalil Maamoon is one of the most delicious blends a hookah enthusiast can try. The following are the 3 most important ingredients in this shisha:
Blackberries

Blueberries

Strawberries
The concoction delivers an exquisite combo of:
Sourness

Sweetness

Tanginess
Unless you are averse to any shisha tobacco flavor that is essentially a mix of berries, this one is definitely going to delight and satiate you, if not more.
2. Black Orange
Not many people are aware of the fact that oranges don't always have the typical pulp everyone is familiar with. Oranges can have different types of flesh, ranging from red to black. These fruits don't taste the same as your regular oranges. Black, blood, or red oranges are a league apart.
The shisha tobacco flavor called Black Orange from Khalil Maamoon is still citrusy. However, the texture isn't the same sweet flavor profile that you expect from an orange blend or mix.
3. Blueberry Mint
Mint is nothing special in the world of shisha tobacco flavors. However, when you mix mint with some blueberries, we aren't talking about the typical refreshment that is only cool and soothing. Khalil Maamoon's Blueberry Mint is popular precisely because this combination is a winner. 
4. Cinnamon Gum
Not everyone likes to chew gum, but almost everyone loves the flavor and fragrance. Add to it the flavor and texture of cinnamon. The Cinnamon Gum shisha tobacco flavor is an eclectic mix from Khalil Maamoon, a combination that you should experience to understand its popularity. 
5. Cactus Lime
The Cactus Lime shisha tobacco blend from Khalil Maamoon is a delectable combo of bitter and sweet flavors. The prickly pears of the cardon cacti make this flavor sweet, and the seeds make this shisha tobacco a bit bitter. Combined with lime, this blend is delicious. 
6. Bombay Masala
Bombay Masala is a spicy shisha tobacco flavor, which is probably not for everyone, but you will love it if you like any or many of the following ingredients:
Cinnamon

Chili powder

Cumin seeds

Turmeric powder
This blend uses what is known as garam masala in South Asia to deliver a flavorful and strong hit every time you draw a puff. Bombay Masala is like the Asian equivalent to Khalil Maamoon's Mexican Salsa, which is equally popular, if not more, especially in the west.
7. FakhFakhina
Khalil Maamoon's FakhFakhina shisha tobacco flavor is essentially a mixed fruit blend. But this delicious recipe isn't an ordinary fruit punch because you get the following notes as the highlight of your smoking experience:
Kiwi

Lemon

Pineapple

Strawberry
Khalil Maamoon has a Mixed Fruit shisha tobacco flavor as well, which is very popular among beginners and veterans. However, if you are enroute to becoming a connoisseur, you will really like the FakhFakhina.
8. Fancy Grape
Khalil Maamon has more than a couple of shisha tobacco flavors based on grapes. Here are the 3 most popular flavors in this niche classification:
Fancy Grape

Grape Berry

Grape Malakee
The Grape Berry flavor is basically a mix. You may have guessed it already, grapes and berries. The Grape Malakee shisha tobacco flavor is refreshing and relaxing, so it is a popular variety for most hookah smokers. However, the Fancy Grape variant is distinct, which is why I segregate it.
The Fancy Grape shisha tobacco from Khalil Maamoon is succulent, creamy and rich, delivering mouthfuls of flavors and voluminous clouds.
9. Kiwi Strawberry
You will get hints of both kiwi and strawberry in the FakhFakhina shisha tobacco flavor made by Khalil Maamoon. However, those hints are not the most dominating flavors when you smoke. If you want the sourness of kiwis and sweetness of strawberries, this combo is what you must get.
The luscious and juicy Kiwi Strawberry blend uses the freshest fruits, and you get a flavorful mix unlike any other if you prefer the combo of sourness and sweetness.
10. Mango 
If you have ever tasted a real mango, not the likes of what grows here in the United States, you will know why this flavor features as one of the most popular Khalil Maamoon shisha tobacco. The most delicious and sweet mangoes, fresh harvests, are the main ingredient in this recipe.